In our blog post last week, I shared our Ultimate Guide to Livestream for Business.
Like most businesses, we're under the pump – not only creating our own marketing content, but also working with our clients on their businesses, so I got overwhelmed and forgot to write a post for this week because I was stumped for ideas.
Yup.
That's right, even we get stumped internally on our own campaigns.
However, something pretty cool happened over night on Wednesday.
As I was sleeping in Bangkok, Nigel Ravenhill from Napa Valley, California dropped me the pictured direct message below after seeing our Ultimate Livestream Guide.
Here's how your business can benefit from Livestreaming.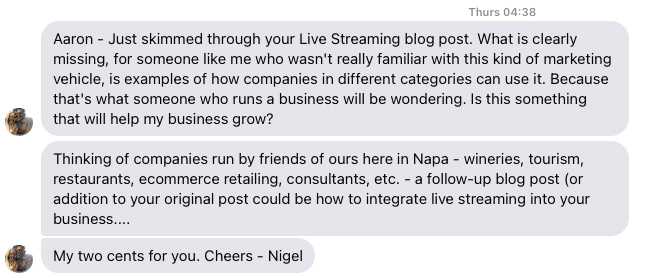 [IMAGE TRANSCRIPTION] Aaron – Just skimmed through your Live Streaming blog post. What is clearly missing, for someone like me who wasn't really familiar with this kind of marketing vehicle, is examples of how companies in different categories can use it. Because that's what someone who runs a business will be wondering. Is this something that will help my business grow?
Thinking of companies run by friends of ours here in Napa – wineries, tourism, restaurants, ecommerce retailing, consultants, etc. – a follow-up blog post (or addition to your original post could be how to integrate live streaming into your business….
My two cents for you. Cheers – Nigel
1. Create Live Conversations with your audience
In the new COVID normal era, face to face interactions are happening less frequently.
This has really hit hospitality / tourism businesses hard.
Livestreaming can provide new opportunities to reach a new local / domestic market.
Take for example the Travel & Tourism Authority of Thailand or the TTA.
When the pandemic broke out, Thailand closed its borders to the rest of the world and introduced a night-based curfew which help to keep the virus transmission low.
The TTA sprung into action once internal lockdowns were eased and used a livestream with local celebrities where potential domestic travellers could interact with the presenters and learn about new destinations that they could travel to once restrictions were eased.
This type of activity is one of the crucial factors that lead to the Royal Thai Government rescheduling cancelled public holidays to promote domestic tourism where billions of baht (millions of USD) were spent on domestic travel, helping to give a much needed boost to the many communities around Thailand that rely on tourism as an income source.
In my home state of Victoria, Australia – Melbourne Museum has invested in creating a virtual tour of the museum and using livestream platforms, connects with a global audience to provide a live Q&A conversation with viewers.
Whilst travel restrictions are in place, Google is showing that travel searches have increased, with people planning out both domestic and international trips.
Using livestreaming and partnering up with other likeminded businesses in your area can provide a way to 'cross pollinate' your audience.
For example, at the start of this blog post I mentioned that it's inspired by a direct message from Nigel.
We've linked you to his business to 'cross pollinate' our audience with his offering as a way of saying thank you.
2. Increase your sales / orders
The Futur is one of our favourite places for inspiration, being digital consultants. @ChrisDo is a creative genius who I've watched for quite some time now. 
The Futur is a business that's focused on providing incredible educational content to creative freelancers & studios that help them scale and grow. It's how I've gone from running / owning FL3P (an Australian Based Digital Studio) to launching and scaling Lemon Squeezy Digital throughout South East Asia, Europe, the UK & the US. 
Over the past 3 years, the Futur have been publishing not only direct to public livestreams, but they've also been sharing some of their captured content from paid Mastermind group sessions in these livestreams. 
This means that during a livestream, you might find yourself witness to some information that can drastically change something in your business with someone else having paid to get that same access. You might call it an unfair advantage. 
The hope here, is that in providing such content that drastically changes your business, that you will now understand the immense value of the paid Mastermind session and it gets your brain thinking what else could you benefit from by being a part of this group…what else are you missing? 
It creates FOMO, the fear of missing out. 
And this is the biggest benefit of livestreaming. 
When you have a product / service that the customer understands that it will solve their problem, the easiest way to have them convert is by offering a discount / time deadline or a combination of both – say 75% off for the next 10 mins before going to 50% off for 30 mins. 
Let's say you schedule to be live for an hour, showing off your product and or service. 
Just like a Television Shopping Channel, there's a special deal available, but only until the end of the stream. Once the stream ends, the deal is gone. 
If you've been able to communicate that the customer needs what you're selling, then this is the bait that seals the deal. 
3. Find new customers
Speakerbox is one of the premier Live Houses in Bangkok, Thailand. 
Back in 2019, the Speakerbox team started livestreaming some of their live performances with great success, so when the COVID lockdown in Thailand happened and they had to close, attention switched from being a live music venue to being a live music content capture team. 
 This is where In the Box Sessions were born, with the help of CMG / Rebirth Productions & Lemon Squeezy. 
Being one of the only venues in Bangkok to be 'active' in the online space helped Speakerbox to add new pages followers across Instagram and Facebook. Whilst many of these followers were international based (gaining exposure with the foreign tourist communities) a significant number of locals also followed. 
When restrictions eased, Speakerbox was able to effectively promote its reopening to a larger local following which meant that they came back with stronger numbers than previously expected as they were able to convert online viewers into physically paying customers! 
Due to the success of the In The Box Sessions, we're currently working with the Speakerbox team to bring these to a new level in 2021 and gain a more global audience for the Thai music scene, with the aim of helping local bands gain international followers who will stream their music through Apple / Spotify or Google! 
This can also work for online only businesses (as well as for those who are camera shy…), for example, us here at Lemon Squeezy! 
We not only have our own livestream / video content plans (keep your eyes peeled!), but we also sponsor video content that aligns with our brand! 
Speakerbox's In The Box Sessions are 'powered by Lemon Squeezy Digital' and the LS-D brand is found visually on the streams and linked in all descriptions. 
We'll also be creating some cool promo style ad 'videos' that play at certain times during streams. 
So even though we won't be directly 'live', we'll gain brand exposure through sponsorships and promo video playback. 
New people will find the Lemon Squeezy page, then enter our marketing funnel, reading our content – all until a point where they might end at this exact blog post!  
And hello to you if you've found Lemon Squeezy via Speakerbox and its video content! 
4. Gain Feedback from your Audience
Whilst this isn't a 'livestream' in the broader sense, AirWallex uses livestreaming technology to consult with users around feature enhancements to its service offering. 
Since starting to use AirWallex in November of 2019, both of my businesses have switched to using the Local Currency accounts that AirWallex offers for B2B transactions across the world. 
It's what allows us to invoice our clients in their local currency & be paid into a local bank account, drastically reducing the fees generally associated with overseas payments. 
Due to my connection in the start up business scene in Melbourne, where AirWallex was founded, I've been privy to a lot of new features, being a beta tester. 
The cool part about how AirWallex have used livestreaming tech is that they can now get direct one on one feedback in a feedback session all without the need to leave their office! 
And with remote working now a huge thing, this means staff can connect with customers whilst working from home! 
I've been through lots of feedback sessions where it allows me as a customer to be asked how I'm finding the service & to gain my feedback on a new concepts. This has been from how the payments screen flows, right through to how a potetnail AirWallex app might work in future.  
Whilst this is a one on one type experience, you can always use your streams to have customers provide feedback.  
If you're open to receiving feedback and actioning said feedback (if viable) then your building a great deal of trust from that interaction alone! 
Sign up for an AirWallex Global account for your business here!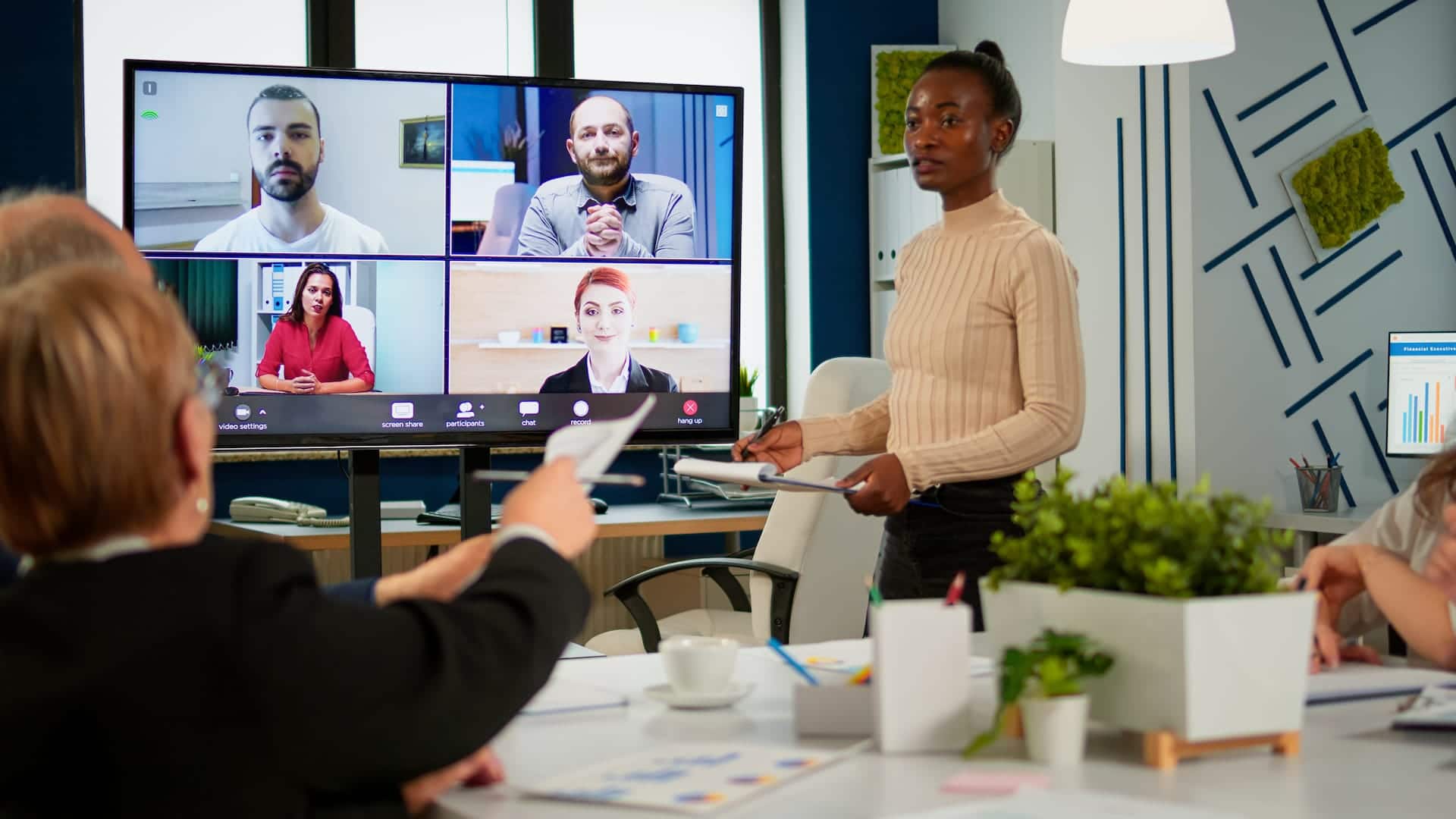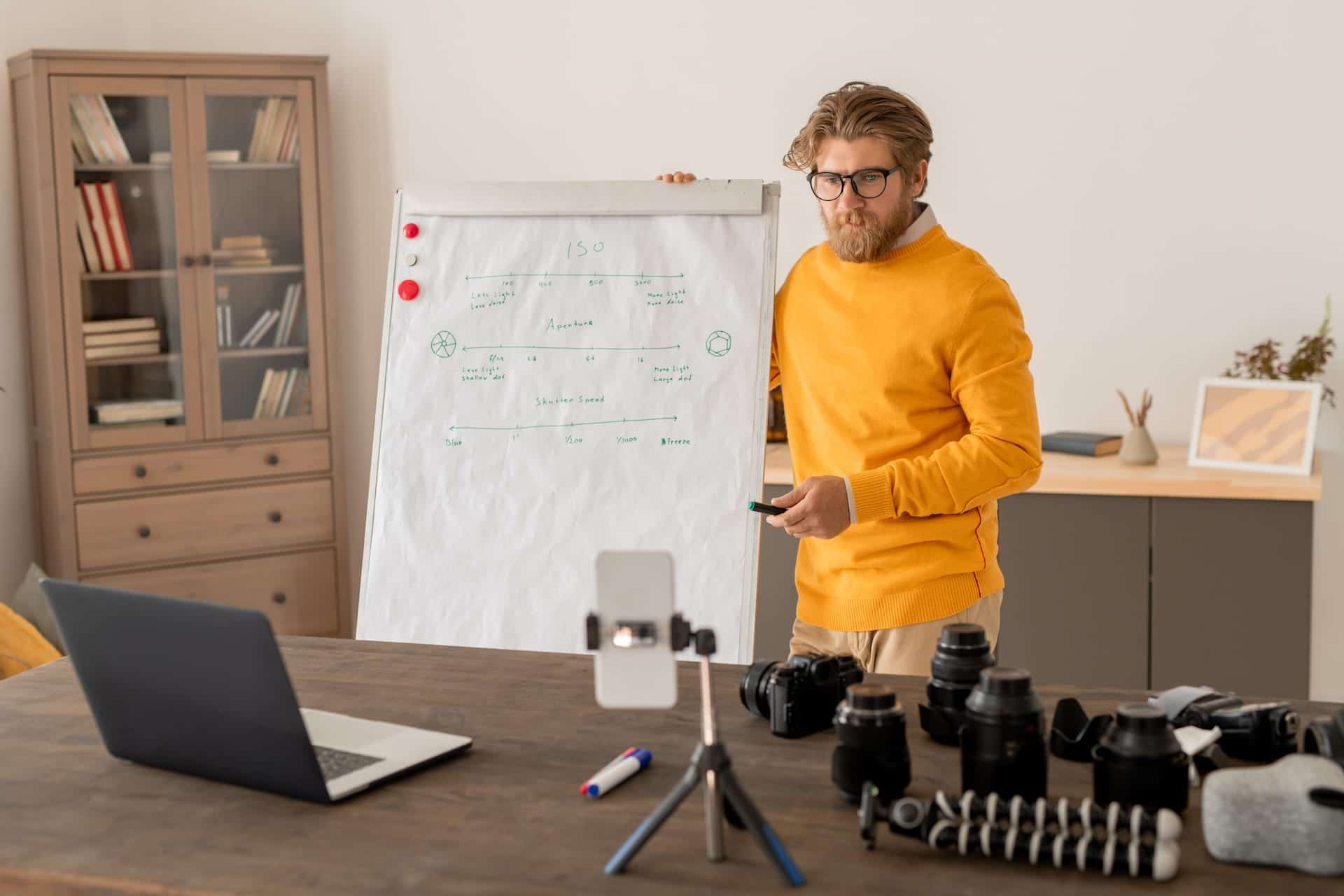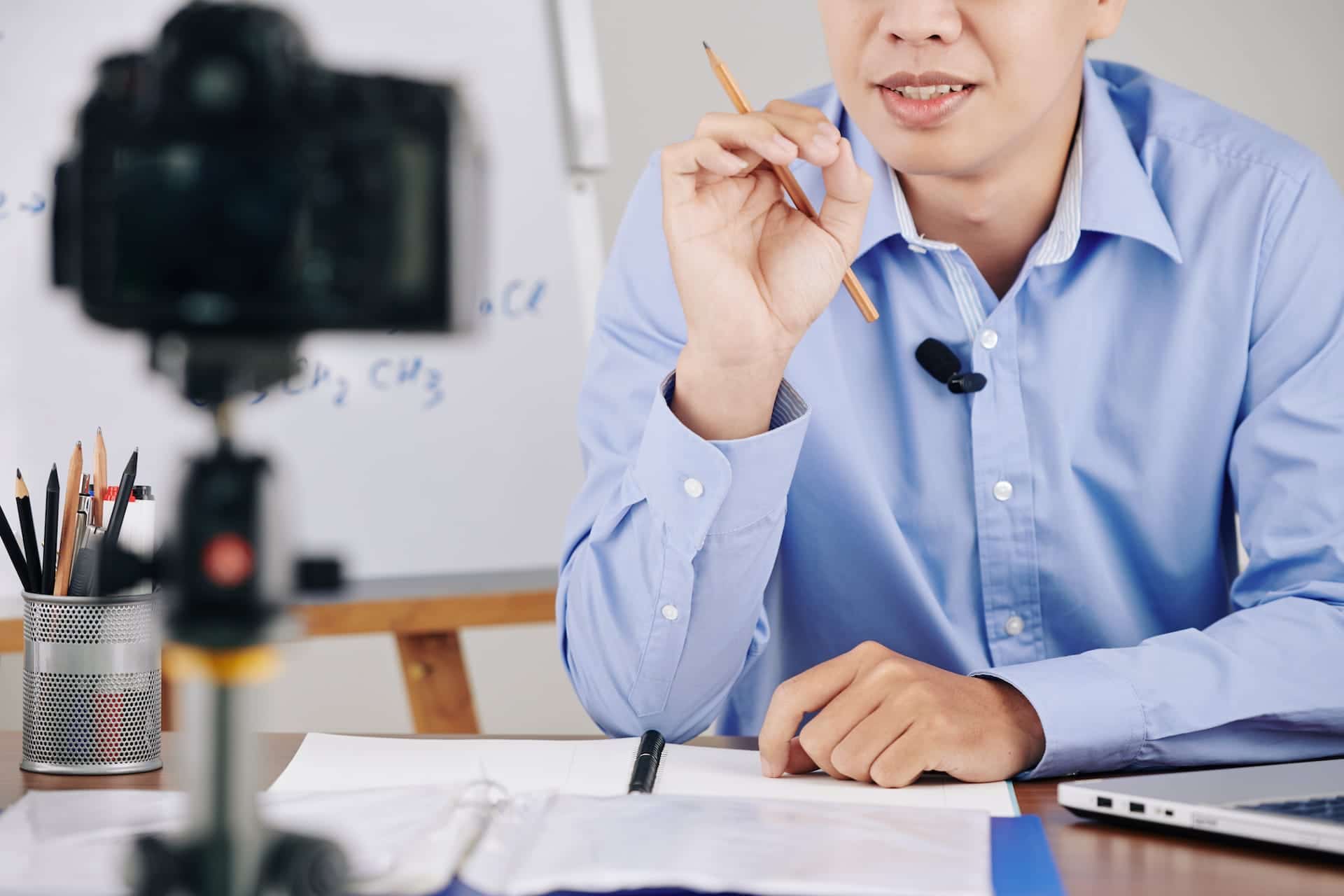 5. Build Trust with your audience
Divi by Elegant Themes is the framework that Lemon Squeezy uses to power its website builds. 
The primary reason for choosing Divi as the web framework came down to how Elegant Themes chooses to connect with its client base – primarily designers. 
It uses varying methods of interacting, including livestreams of product updates (which allow customers to ask questions) and how to guides on using the framework to achieve some really cool outcomes. 
You're currently on a website that has a number of 'enhancements' that other sites don't have, and it all comes down to being able to access the Divi live videos even after they have been published! 
This is where you can build immense trust quite quickly after building a library of video content. 
If people can see you advancing through your streaming capabilities, it shows that your business is growing and adapting. 
The consensus is that businesses that grow and adapt to their surroundings are more likely to succeed and stay in business longer. 
Thus, by having a video catalogue and constantly adding to it, what you're starting now can be the very video that helps to convert a customer in 2 years time. 
Video is a great tool for business. Unlike SEO and PPC campaigns (where SEO is long leading, PPC is results now) video is a hybrid of the two. 
Search Engines also see video content as being a form of ultimate truth and in turn, by posting videos to YouTube via a channel linked to your website, you'll get the added benefit of higher organic rankings in not only video searches, but web searches too!
We're curious to know if you're using video / livestreaming in your business and what other content we can create to help you reach your goals sooner.
Feel free to email [email protected], add @ls-d on LINE or drop me a direct message on Facebook!
Have an awesome day!
x
winning